The idea that employers would engage in wide-scale temperature screening of employees would have once been inconceivable. But such are the realities of COVID-19, changing the workplace, at least for the time-being. Employers across the globe, faced with the need to reduce the risk of workplace transmission of COVID-19, are contemplating imposing standard temperature screenings on their employees. The CDC along with EEOC or U.S. Equal Employment Opportunity Commission (EEOC) has re-issued its guidance, confirming specifically that the COVID-19 pandemic permits employers to measure employees' body temperatures before allowing them to enter the worksite. Any such screening should be implemented on a nondiscriminatory basis, and all information gleaned should be treated as confidential medical information under the Americans with Disabilities Act (ADA)—specifically, the identity of workers exhibiting a fever or other COVID-19 symptoms should only be shared with members of company management with a true need to know. Temperature screening quickly assesses if an employee can be allowed to a facility. Procedures vary based on building layout, staffing, and other variables. You should work closely with your Safety Officials to implement the facilities specific process.
Given the increased focus on this particular preventive measure, it is important for employers to ensure that when they take employees' temperatures, they do so safely. Because some employers already are required by state and local orders to institute temperature checks, we offer below both general best practices and specific compliance approaches that may be considered. It is crucial for employers implementing temperature checks to review emerging requirements, including guidance from state and local health authorities.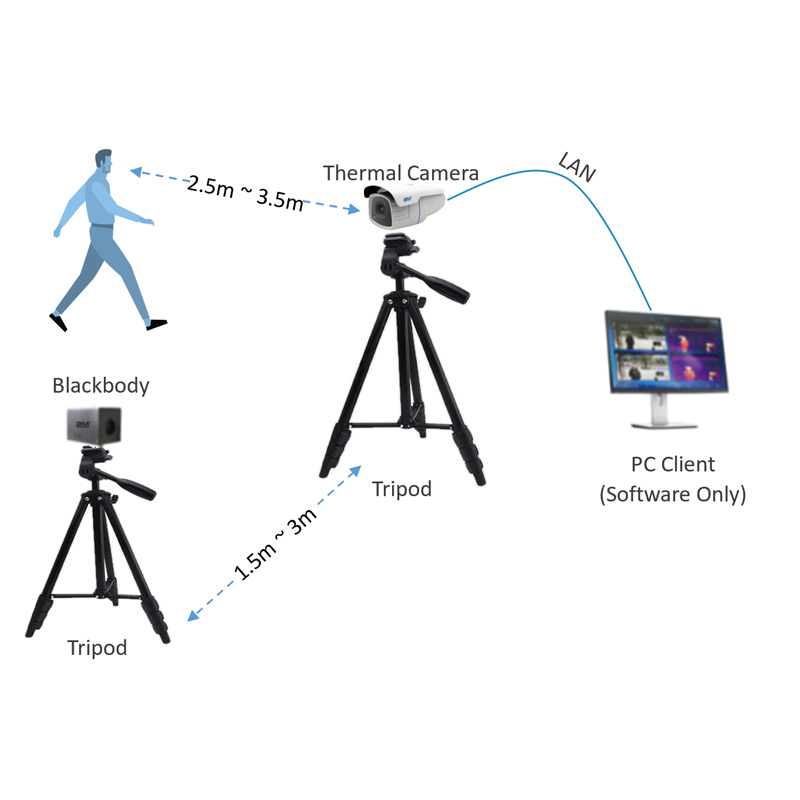 Setting Up Your Screening Process
For your safety, Temperature Screening must be in compliance with these procedures:
Make sure you have supplies for your temperature measuring devices and employees:

No-touch thermometers manufactured for taking human forehead body temperatures
Alcohol sanitizing wipes
Hand sanitizer for scanning area.
Gloves
Replacement batteries
An indicator method for daily screenings such as a wristband

How To Set Up and Identify A Screening Location:

Find a location that employees, visitors, and contractors can safely enter through.
Determine the number of screening lanes depending on the number of employees.
Make sure the screening lanes are established 7 feet apart for social distancing. Floor marking tape is recommended.

Identify and Prepare individuals who perform the screening process

Hire or determine staff to screen based on your number of screening locations and lanes previously identified.
Staff who are screening need to have knowledge of established screening procedures, PPE use/availability, and the instructions for the thermometer being used.
Considerations and Procedures for Screening
The thermometer must be used with the manufacturers' instructions.
When you scan someone, you cannot document names, results, and other information. It is unnecessary and considered private medical information.
The staff using the thermal camera scanners may choose to wear personal protective equipment (PPE).
Mandatory screening procedures:

Step 1: Screening Permissions

The screener must ask the individual permission to scan them.
If the employee refuses, entry into the building is not permitted.

Step 2: Scanning the Employees Forehead

Using the thermometer scan the employee's forehead per the manufacturer's instructions.

Step 3: Deciding

A temperature lower than 100.4 degrees Fahrenheit is safe and the employee may leave the scanning area.
If the employee has a temperature of 100.4 Fahrenheit or higher a supervisor must be notified and they are not allowed into the building.
Do not read specific temperature readings out loud.

The thermal camera scanner needs about 15 minutes to set up before it can scan for the first time when you first turn it on daily. Refer to the manufacturer's instructions.
Lack of contact means minimal disinfection. This allows for faster and easier use.
You would typically hold the non-contact infrared thermometer two to three inches away from the temple or forehead. Refer to the manufacturer's instructions
The front of the thermal camera scanner should not touch the employee or any other surface. If this happens, clean the glass with an alcohol-based wipe.
If the thermometer reads low, this means the temperature was not scanned properly. You may need to have the employee pull their hair back or removed their glasses or hat. Wait two to three minutes before taking their temperature again
Batteries may need to be replaced daily depending on usage.
Summary
The impact of this pandemic is rapidly evolving and hence calls for strategic procedures and protocols. Employers must further consult the CDC website to ensure they have the correct and most up-to-date information and guidance. Even as they become more commonplace, employers conducting temperature screens for the first time have much to consider. Potential privacy, discrimination, and employee-relations concerns are among the issues that may inform an employer's calculus. We are here to help and will keep updating regularly.
Learn more about thermal imaging and detection