Access Control Turnstiles, Wing Turnstiles
2MWT-2 Face Recognition and Thermal Detection Access Control Wing Turnstile
REQUEST QUOTE
Speed gate retractable turnstile
Temperature and face recognition access control
Pass rate: 35 person /min
Unlock time: 0.2s
Constructed of 304 stainless steel
Can support also two-sided card readers, paper tickets, fingerprint / bio-metric scanning, and coins
Product Documents
Downloads
Compare
2MRST-2 Face Recognition and Thermal Detection Access Control Retractable Door Turnstile
Features:
Stainless steel 304#, 2 channel bridge
Anti-clamping function
Working mode and opening time is adjustable
Alarm will activate when it detects infiltration or tailing
LED direction guide
Working temperature: -30+80
Working humidity: 5% – 90%
Passage width: max 600mm
Wing will open automatically when power off
Non-contact detection, warns of people with abnormal body temperature
Supports body temperature detection and personnel information binding, which can quickly confirm personnel information and do body temperature detection
Built-in deep learning dedicated chip, supports local off line recognition, 10,000 face capacity, face white list (1:N)
Fastest recognition time 0.2 seconds, various model merge mode are used to reduce false rate and increase pass rate
WDR, 2MP (1080P) low illumination wide-angle camera and F1.6 large aperture lens for capturing high quality image with various complex lighting scenes
Anti-spoofing detection based on deep learning algorithm, can identify the difference between an actual person and a picture or video.
NOTE: The model numbers and prices represent single units and ARE NOT as illustrated in the images. For more information on pricing contact our representatives.

Face Recognition and Temperature Detection Access Control Technology
Control access to buildings, offices, factories, plants and any facility by verifying persons identity with a 99% face recognition accuracy. Does not allow access to anyone with a high fever or without a Mask. 2M terminal software can determine if the person passing by is wearing a mask or not.It can also read his/her temperature and determine based on configurable pre-defined temperature threshold if access should be granted or not.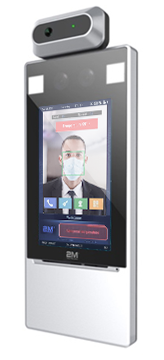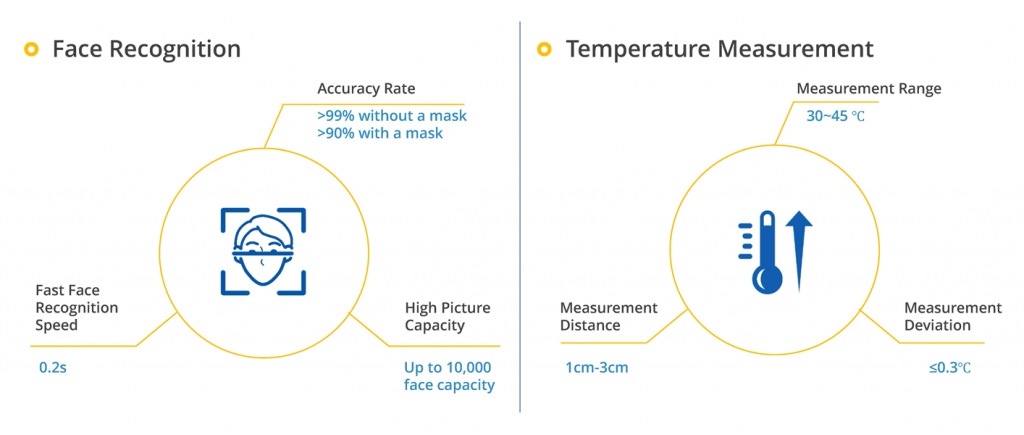 Module Features:
Fast recognition time within 0.2 seconds. Various models merge mode are used to reduce false rate and increase pass rate
Non-contact temperature detection
Body temperature detection and personnel information binding
Configurable temperature detection threshold value
Temperature range between 30˚C to 45˚C
Accuracy between 0.1˚C to ≤0.3˚C, distance is up to 1m
Learning algorithm maximizes accuracy rate >99% and reduce the false rate <1%
The dedicated learning chip, supports local offline recognition up to a 10K face capacity, face whitelist (1:N)
WDR, 2MP (1080P) low illumination wide-angle camera and F1.6 large aperture lens for capturing high quality image with various complex lighting scenes
Anti-spoofing detection based on deep learning algorithm
Want to see this product in action? Schedule a live demo now!
REQUEST QUOTE
Options Available with this Model
MODEL NUMBER

2MWT-2 (SINGLE FLAP)

2MWT-2 (DOUBLE SIDED FLAPS)

MOTOR TYPE

BRUSH

BRUSHLESS

DOUBLE SIDED BRUSH MOTOR

DOUBLE SIDED BRUSHLESS MOTOR

Drive Type

Drive By Brush Motor

Drive By Brushless Motor

Drive By Brush Motor

Drive By Brushless Motor

Arm Material

Acrylic

Acrylic / Tempered Glass

Acrylic

Acrylic / Tempered Glass

Power Off

0-23.6″ (in) [0-600mm]

0-35.4″ (in) [0-900mm]

0-23.6″ (in) [0-600mm]

0-35.4″ (in) [0-900mm]

Lane Width

Automatic Open

Automatic Open

Automatic Open

Automatic Open

Speed

1 Second Not Adjustable

0.5 Seconds Adjustable

1 Second Not Adjustable

0.5 Seconds Adjustable

Max Capacity Flow

1000

2000

1000

2000

Life Time

2-3 Years

3-5 Years

2-3 Years

3-5 Years

MTBF

5 Million

10 Million

5 Million

10 Million

Controller

Standard Function Can Be Set

Standard Function Can Be Set

Standard Function Can Be Set

Standard Function Can Be Set

Structure

Stable

Strong

Stable

Strong

Mechanical Friction

Yes

Some

Yes

Some

Noise

Moderate

Quiet

Moderate

Quiet
| | |
| --- | --- |
| Dimensions | 55.1 × 11.8 × 39.4 in |
GATE FEATURE
Turnstile type
speed gate turnstile
Cabinet material
304 stainless steel (standard)
316 stainless steel (optional)
Arm material
Acrylic (optional)
Tempered glass (optional)
Finish
Stainless steel satin finish
Function
Fail-safe, anti-clamping
Dimension
55.1" x 11.8" x 39.4" (in)
Passage width
Customized
Direction
Single / bidirectional
Power supply
AC110–220 V, 50/60Hz
Unlock time
Adjustable
Working environment
Indoor
Indicator lights
Yes
Motor
DC brush motor (standard)
DC brushless motor (optional)
DC servo motor (optional)
FACIAL RECOGNITION
Operation System
Linux
Face Recognition Accu- racy Rate
>99%
Face Recognition Time
200ms
Face Capacity
10,000
Card Capacity
100,000
Storage Capacity
4GB
Event Capacity
30,000 (with images)
Measurement Range
30°C - 45°C
Measurement Accuracy
0.1°C
Measurement Deviation
≤±0.3°C
Measurement Distance
1m
Authentication Mode
Face Whitelist: (1:N)
Card:(1:N)
Face +Body temperature
Card Type
Mifare 1 Card
User Management
Support user library addition, deletion, update
Record Management
Support local recording and real-time upload
Interface
LAN×1, Wiegand Input×1, Wiegand Output×1, RS485×1, Alarm Input×2, Alarm Output×1, USB2.0×1, Lock×1, Door Contact ×1, Exit Button×1
Power Supply
Input 12V±25% DC
Screen
Touch Screen, Size:7 inch, Resolution: 600×1024
Camera
Dual Lens, 2MP, 1080P
Supplement Light
LED soft light and infrared light
Dimensions (L×W×H)
134.0mm×33.0mm×305.0mm
Working Environment
For access control terminal: -20°C~+65°C, Relative Humidly<95% (non-condensing)
Protection Level
Both terminal and module: IP 54
Application Situation
Indoor, No wind