How to Share a Device
This is only valid for models: 2MN-8004-P4, 2MN-8008-P8, 2MN-8116-P16, 2MN-8232-P16 and our IP cameras
Each NVR can only be added by one account at a time, so if one wants to add a device onto multiple accounts they would need to share the device with one account being the "main" account. This means that one person will have the device added to their account and that person will share the device with other people. Each person still must have their own Star4Live account.
How to share the device is simple. First, you will need to log onto the main Star4Live account which the NVR has been added to. It can be done either through the computer or your personal phone.
Sharing from Computer: after logging into the account your list of added devices will appear. Click Share on the row for the device you are wanting to share.

Then a menu will appear to enter the account you want to share to, the Valid Till date, User Rights, and any Description you want to give.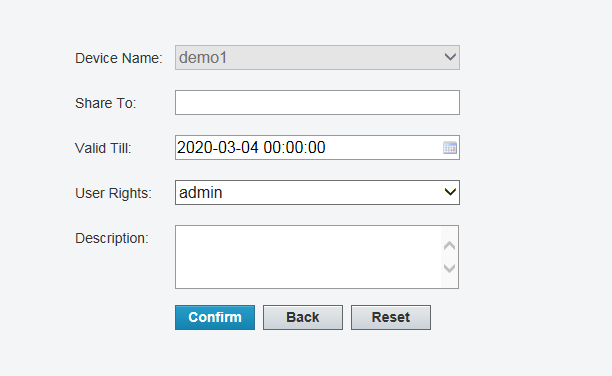 Share To

→

can either be the username or the email of the Star4Live account you are sharing to
Valid Till

→

can go up to X amount of years, months, or just a few days
User Rights

→ can choose any user rights that have already been configured on the NVR

(admin, etc.)
Description

→

can give a short description to the recipient about the device that is being shared
Once all of the information has been correctly filled out, click Confirm to successfully share.
Sharing from 2M Guard Phone App: after logging into your Star4Live account on the 2M Guard app, go to your Devices and then tap on the device that you want to share. A small menu will appear. Then tap Share on the bottom of the screen.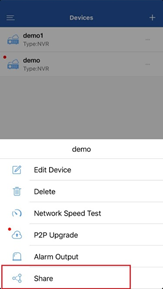 The app will ask for the same information as the computer does, but it will not give a space to fill out a description. Fill out the Share To, Valid Period, and Sharing Permission the same as you would on the desktop and then tap Share.
Once one of these methods have been completed to share the device, the recipient only needs to log into their Star4Live account and the shared NVR should show automatically under their own device list.