Tire killer, also known as the broken Tire device was originally designed to prevent vehicles avoiding toll stations. The product can be operated by manually or via remote control. The tire spikes can slow down vehicles with the tire puncture function, it is the essential in facilities to prevent vehicles forcibly entering. Ensures the safety for people and property. The tire killer's
main framework is composed of A3 steel plate and steel plate blades, and has an integrated electronic-mechanical control device which helps intercept unauthorized vehicles and terrorists, and is reliable, safe and easy to operate.
Note: Product is priced higher with additional features. Contact our representative for more information. 
Available Models
MODEL NUMBER
DIMENSIONS (LxWxH) mm/ft
2MTK-13
4000 x 500 x 63 (mm) Intercept Height: 55mm /

13.1 x 1.6 x 0.2 (ft) Intercept Height: 2.2″ in

2MTK-17
5000 x 500 x 63 (mm) Intercept Height: 55mm /

16.4 x 1.6 x 0.2 (ft) Intercept Height: 2.2″ in

2MTK-20
6000 x 500 x 63 (mm) Intercept Height: 55mm /

19.7 x 1.6 x 0.2 (ft) Intercept Height: 2.2″ in

2MTK-23
7000 x 500 x 63 (mm) Intercept Height: 55mm /

22.9 x 1.6 x 0.2 (ft) Intercept Height: 2.2″ in

2MTK-26
6000 x 500 x 63 (mm) Intercept Height: 55mm /

26.2 x 1.6 x 0.2 (ft) Intercept Height: 2.2″ in
Dimensions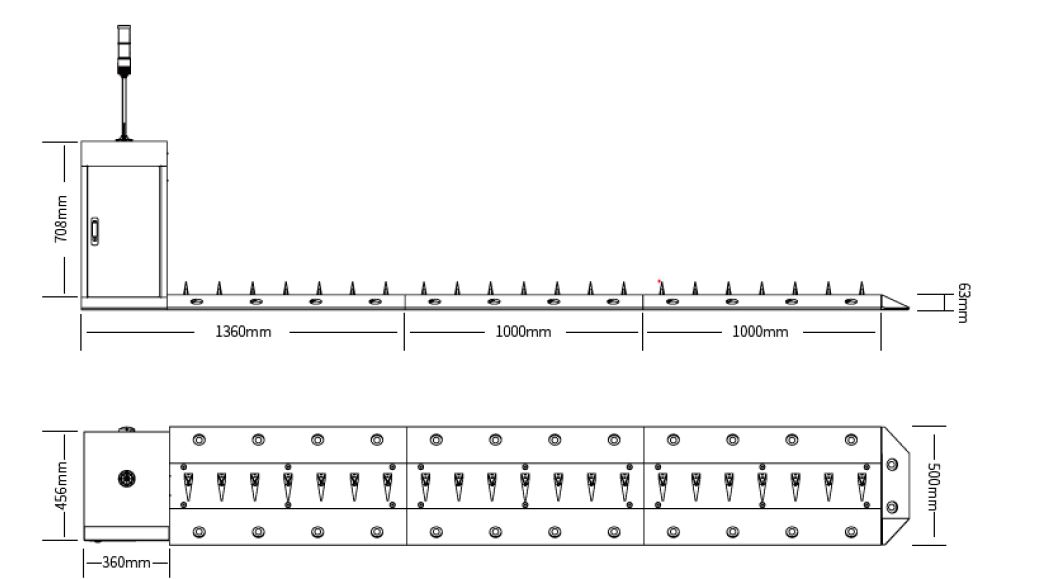 | | |
| --- | --- |
| Dimensions | 13.1 × 1.3 × 0.3 in |
Full Dimension
(Intercept Length+360mm) x 500 x 708 (mm) (Intercept Length+14.2″) x 19.7″ x 27.9″ (in)
Intercept Parts Dimension (LxWxH)
(Various Lengths Available) x 500 x 63 (mm) (Various Lengths Available) x 19.7″ x 2.5″ (in)
Controller Modular Dimension (LxWxH)
1360 x 360 x 708 (mm) / 53.5″ x 14.2″ x 27.9″
Controller Modular Weight
170kg (included 1m/ Tire killer)
Tire Killer Length (Intercept Width)
3m, 4m, 5m, 6m, 7m, 8m /

9.84ft, 13.1ft, 16.4ft, 19.7ft, 22.9ft, 26.2ft

Each Assembly Modular Length
1 meters / 3.3ft

Each Assembly Modular Weight

84kg if 4m/185.2lbs if 13.1 ft

product total weight is 170kg + 84kg x 3m = 422kg / product total weight is 374lbs + 185.2lbs x 9.8ft = 930.4lbs

Expansion Screws
8 pcs M14 expansion screws per meters
Materials
A3 steel
Distance between block- ing spikes
140mm /5.5″ in (i.e. Tire Killer 4m/13.1ft: 28 Blocking Spikes)
Blocking Spikes Intercept Height
55mm/2.2″ in
Blocking Spikes Thickness
10mm / 0.39″ in
Rising Time
≤ 2s
Top Plate Thickness
10mm/ 0.39″ in (Q235 Material anti-slip decorative pattern board)
Weight Capacity
Static load 100 tons, through load 200 tons
Surface Treatment
Anti-erosion / powder coated
Movement Principle
Electromechanical
Mode of Application
Assembly or Combination Type
Controller Cabinet (LxWxH)
456 x 360 x 708 (mm) / 18″ x 14.2″ x 27.9″ (in)
Control Mode
Remote or Button
Remote Control Distance
≥30m (≥98.4ft)
Traffic Light
Optional
Type of Use
Intensive
Operating Voltage
220V (+/- 10%) 50/60HZ (Optional)
Rated Power
260W
Emergency Manual Operation (Power Off)
Yes
Structure and Spike Color
Standard Yellow / Black, Spikes is Red, Optional
Operating Temperature
-40°C ~ 70°C

Operating Humidity

≤90%