Optimize your business operations with 2M Technology's Electronic Shelf Labels (ESL)
Electronic Shelf Labels: Dynamic Content, Business Optimization, & Engaging Customer Experiences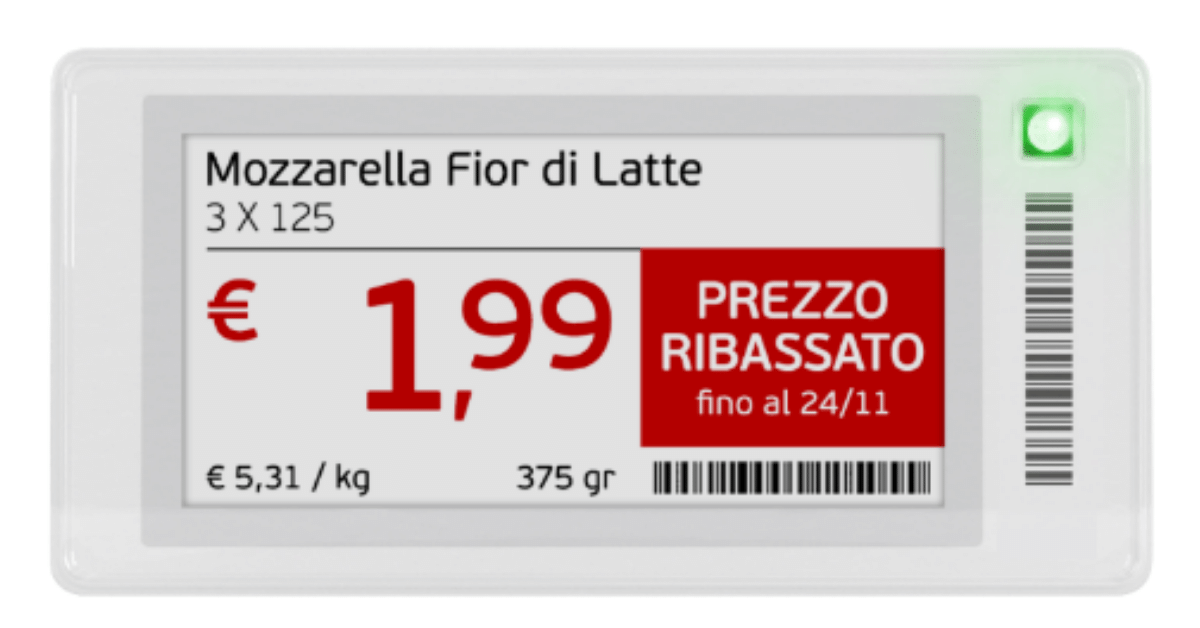 Advanced Design for Simple Usage
We've taken the traditional ESL and made it sleeker but more robust with advanced features and durability. Use our Electronic Shelf Label with confidence knowing that it's simple to manage and future-proof.
Use as an interactive menu to provide customers with extensive details regarding allergens, ingredients, nutrition information, prices, and menu updates.
In the case of special events or reserved parties, the menu can display custom covers and set meal choices.
Digital menus eliminate the need to design and print costly new menus when food items are added or prices are changed.
Prevents the mistake of handing to-go orders to the wrong customer by displaying the order number and name of the purchaser. When the customer has successfully picked up their order, the next order can be updated on the screen. Tracks the expiration dates of medicines and other medical items to prevent using expired products.
Using digital signage for patients can improve the accuracy of medical records by keeping all data in a central, accessible hub that can be updated in real-time.
Replacing paper door signs with digital signage allows hospitals to update room occupancy and bed allocation in just a few clicks so available rooms are immediately identified for use.
The paperless nature of ESLs improves hospital hygiene by eliminating any physical contact needed for printing and viewing patient identification labels.
Display the name of the room or section in a dynamic and creative way to pique attention and guide visitors.
Use for showcasing artwork descriptions which can be easily updated with new information or changed for different exhibits.
Allow visitors to scan a QR code to discover more information, listen to narrations and translations, or partake in engaging activities on their mobile devices. Offices & Conference Events
Quickly check meeting room status and availability.
Showcases current event information as well as promote upcoming meetings and conferences.
Displays detailed information about seminars such as the name of the speaker, an abstract of the discussion, the duration, and how long until the next event.
Event managers can instantly switch to the next event instead of having to print and change out paper signs.
Warehouses & Distribution Centers
Reduces the amount of time spent searching for and picking items by automatically locating the product.
Automates workflows.
Check the status of cargo/packages.
Monitors the temperature and humidity of areas with temperature-sensitive products.
Update prices automatically instead of changing out paper price tags on thousands of items.
Contains additional product information such as storage requirements, instructions for shipping, and expiration dates. Contact Us for Your Customized Business Solution
Call us at +1 866-708-5401 or fill out the form to find out more information on our Electronic Shelf Labels. Using digital signage is a great, cost-effective solution for optimizing your business or enhancing your facility. In addition to the features listed above, we offer: