Access Control Turnstiles, Traffic Spikes
2MRB In-Ground Hydraulic Road Blockers
REQUEST QUOTE
Emergency fast raise system
Emergency buttons with lock down
UPS backup for the electrical system
Inductive loop systems
Traffic lights and back indications systems
Product Documents
Downloads
Compare
2MRB In-Ground Hydraulic Road Blockers
Features:
Comprehensive understanding of attack resistance
Confidence in proven performance
Operational under power failure control
Reliable and dependable
Protection from multi-direction impact approach
Strength and durability
Flexibility to interface with all forms of access conditions
Available Options:
Emergency fast raise system
Emergency buttons with lock down
Accumulator systems for hydraulic operation in power failure conditions
Access and intercom systems
UPS backup for the electrical system
Interlocking systems to give air-lock type protection on sites with higher threat levels
Inductive loop systems
Traffic lights and back indications systems
Integral inset warning lights in A3 steel cover plate with anti-slip coating
F.O. emergency start-up circuit (about 1.5 seconds)
Equipment for manual operation
Heat-resistant
Traffic light with two lights (green-red)
Loop inductive detector
Inductive loop
Item is priced higher with additional features. Contact our representative for pricing.
Models available:
MODEL NUMBER
DIMENSIONS (LxWxH) mm/ft
2MRB-10
3180 x 1260 x 880 (mm) Intercept Width: 3000mm /

10.4 x 4.1 x 2.9 (ft) Intercept Width: 9.8ft

2MRB-13
4180 x 1260 x 880 (mm) Intercept Width: 4000mm /

13.7 x 4.1 x 2.9 (ft) Intercept Width: 13.1ft

2MRB-17
5180 x 1260 x 880 (mm) Intercept Width: 5000mm /

16.9 x 4.1 x 2.9 (ft) Intercept Width: 16.4ft

2MRB-20
6180 x 1260 x 880 (mm) Intercept Width: 6000mm /

20.3 x 4.1 x 2.9 (ft) Intercept Width: 19.7ft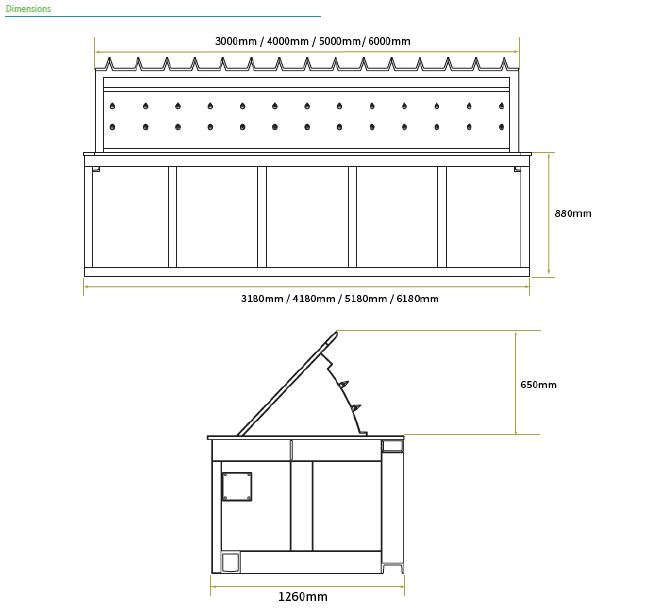 Product Views
Road Blocker Dimension
(Intercept width+180mm) L x 1260 W x 880 H (Depth)
Road Blocker Height from Ground Level
650mm
Road Blocker Intercept Width
3m – 4m – 5m – 6m
Road Blocker Depth
880mm
Top Plate Thickness
25mm
Movement Principle
Hydraulic
Rising Time
3-5s
Color
Optional
Type of Use
Intensive
Road Blocker Finish
Anti-corrosion Treatment
E.F.O. Circuit for Emergency Rising
Optional – E.F.O. rising time 1.5s
Protection Class
IP67
Reflecting Adhesive Strip
Optional
Led Warning Light
Optional
Device for Manual Handling
Optional
Voltage for Control Unit
380VAC/DC 12V, 50/60HZ
Rated Power
3KW (3m-4m-5m), 4KW (6m)
Hydraulic Station Dimension
700 x 500 x 1350 (LxWxH) (mm)
Life Units
10 years
Operating Temperature
-40°C ~ 70°C

(for Low Temperatures See the Heating Resistance)

Operating Humidity
≤95% non-condensing humidity
Impact Tested

6800 kg/65kmh impact test, equal ASTM K8/M40